Bringing new customers into your business is the most important thing you'll do, but how on earth does a small business actually make that happen?
New customer acquisition doesn't have to be complicated. Like most parts of business, it's just about using common sense in a smart way.
These are foolproof tips for how to to get the word out, get more business, and grow your small business.
1. Leverage Existing Customers
If you don't have existing customers that love you, you're going to have trouble finding new fans. Cultivating a customer base that will add tremendous value starts with going above and beyond— truly surprising and delighting the customers you've got.
Nordstrom is infamous for their borderline crazy customer service policy. After Steven Milstein had a great experience with a Nordie (a Nordstrom employee), he spread the word on his blog. That's how Nordstrom maintains such a stellar reputation—by thrilling customers into talking about their experience.
Maintaining high customer satisfaction doesn't take Nordstrom's multi-million dollar marketing budget. You can achieve this by going out of your way for your customers and hiring people who will do the same and by having a customer service statistics platform.
Some people will naturally talk about you online, some might need a little nudge.
Here are a few ways to nudge politely:
Give coupons or discounts in exchange for referrals & reviews.
Offer a small commission on referrals like HootSuite does.
A review for a contest entry — "Review your experience for a chance at a $200 shopping spree!"
Appeal to your social media followers.
Ask personally — send a handwritten note or make a personal phone call.
Make it easy for customers — link directly or provide an on-site form.
No matter how big or small your company is, customers are your number one biggest asset when it comes to bringing newbies to your business.
Treat them right, provide incentives, and you've got an invaluable resource at your disposal.
2. Be Your Own Publicist
Who needs a fancy, expensive publicist? You can be your own PR expert!
Platforms like HelpAReporter.com (HARO) are awesome ways to get your name into magazines, newspapers, and online articles. Reporters are always looking for sources or experts for stories. Journalists post queries and anyone can respond as a source.
Evan Fray-Witzer is a partner at Ciampa Fray-Witzer, LLP, a small law firm. In just a few months, Evan got into the Wall Street Journal, The Washington Post, and TheStreet.com as a result of using HARO.
There are tons of other easy and free options to help you do your own PR:Reporter Connection

With resources like this, there's no excuse for shelling out your hard-earned money to a PR professional or for languishing in anonymity. Use what the internet gives you and get noticed!
3. Let Social Media Help You
When it comes to social media, the benefits are too huge to ignore. Most of us can handle Facebook and Twitter, but what if you're not reaching the right audience?
A surefire way to tap into a whole new group is to explore new social media sites, especially ones where your customers are hanging out. Joining anything from Instagram to Reddit to Tumblr will only increase your business's online presence. If you want to buy real USA Instagram followers try out BRSM.IO. The audiences on social media can vary a lot from site to site, so do your research, find your market, and go where they are!
Daily deals sites are another growing trend. Websites like Groupon and Living Social can add a ton of value to your business. You offer a discounted price, while they promote to their deal-loving audiences. Make sure you're following GDPR compliance laws so you don't get into any trouble too.
"Very quickly Groupon customers began to directly account for 30% of my turnover," Dean King, owner of a Brazilian restaurant that posted a Groupon deal, told The Telegraph. "On top of the redeemed vouchers, I made an additional £20,000 on drinks in one month alone. After the deal was posted, my phones were ringing off the hook with people trying to book tables."
Daily deals sites are great for getting first-timers in the door. Consumers are much more likely to try something new when it's a steal, giving you the opportunity to turn one-timers into repeats.
4. Give A Speech
In most cases, we want the expert, so defining yourself as an industry expert is a knockout way to create demand for your business. Giving a speech is one of the easiest ways to showcase your expertise.
TED talks are a new opportunity to establish yourself. They're highly regarded, widely viewed, and accessible through TEDx, independently organized TED events that can be held anywhere.
Noam Kostucki, co-founder of Redefine Us, credits his perceived expertise to the two TED talks he's given, five podcasts he's recorded, and numerous blog articles he's written. It's that simple—talk about what you do and what you know, and people start to see you as a knowledgeable source. Boom. Insta-demand!
In addition to the street cred, giving a speech can lead to free press. Events are also a great way to network. Forget about the age of the internet, there's still no better way to meet and connect with people than in person, face-to-face.
Whether they're potential customers or contacts, connecting with people is huge. One neat idea we found: print a coupon on the back of your business card.
5. Give Something Away
We know what you're thinking: Give something away FOR FREE?!
Well, nothing attracts consumers like a freebie. Whether it's a free trial of your product or service, branded swag, or something else creative, offer people something for free and they'll be banging down your door. Remember, your products and services are awesome. You just need to get people trying it.
That's the rationale 7-Eleven relies on when they hold Free Slurpee Day every year on July 11th. Believe it or not, last July 11th, the stores saw a 38% increase in sales.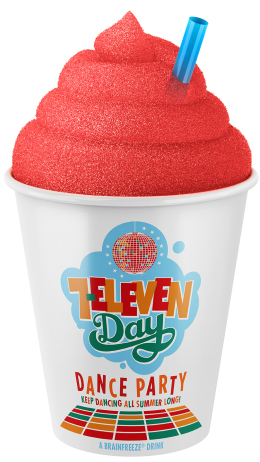 Free giveaways help to engage customers, create a sense of connection to the brand, and instill a feeling of indebtedness to the company.
Customers also love good, old fashioned contests. With a contest, you can ask your customers for something in return. In order to enter, have them "Like" your Facebook page, make a purchase, or even refer someone new. Prizes can be anything from a pack of gum to a flat-screen TV or a vacation in Maui.
There are a bunch of tools available for holding contests and giveaways,
The point is, it still feels free to the customer. Contests are an amazing way to get all the benefits of free giveaways without the financial compromises.
6. Host An Event
In any state, city, town, there are at least a handful of clubs and groups looking for a space to hold their meetings and events. By offering to be that space, you can bring in a specified number of patrons who are part of the group.
If you offer your coffee shop to a local book club for their monthly meetings, what do you think the odds are that most of them buy a cup? Pretty good, right? That's the rationale behind event marketing—just get them through the threshold.
Getting out into the community this way, and bringing the community to you, is a great way to get more business and start word of mouth circulating. Ashmont Grill in Dorcester, MA hosts a weekly Monday Night Wine Club. People come in for the wine, stay for the food, and come back for the restaurant's tremendous quality.
Don't have an office space? One option comes below with our #7 tip: partner up. Join forces with another company that has a space and co-host the event. Another option is to host a virtual event. You can also have an outdoor event, like a marathon or race, or sponsor an existing event.
If it brings people together and gets your name out there, it's great publicity.
7. Partner Up
If reaching your audience feels like a heavy load, find someone to help you carry it! Teaming up with another business opens up a whole new range of options for bringing in new customers.
Cross-promotion helps you tap into their existing customer base. Just be sure to choose a company whose customers are in your target market.
During Super Bowl XLIII, Pepsi teamed up with Intel and Dreamworks Animation to co-promote during halftime. Two 30-second spots—the first focusing on Dreamworks' Monsters vs. Aliens, the second on Pepsi's SoBe brand—were created in 3D to promote Intel's new Tru3D technology. This move allowed each brand to tap into each other's market and save a whole lot of dollar signs on the TV spot.
Rachael Brooke Winkley, the artist behind Salvaged Studio & Gallery, teamed up with other businesses in her area to hold the Westside Artwalk — an annual festival in their neighborhood that promotes local artists. Events like this attract huge numbers of consumers right to your front step.
8. Make It Known That You Take Care Of Your Customers
In most industries, consumers want to know that they'll be taken care of. They want to feel like they aren't just a dollar sign. A reliable way to attract new customers is to show them how well you look after your current customers.
We love the story of Mark the Insurance Guy. Mark runs a little insurance agency in the middle of Ohio. He also grosses seven million dollars a year. How? He'll tell you that whenever he gains a new customer, he visits their neighbors. Sound weird? Hold on.
Mark introduces himself to the neighbors, asks them to keep his contact information because "if something were to happen while [your neighbors] are on vacation or away from the house, you can give me a call. I just want to make sure that they are taken care of." Mark shows genuine concern for his customers and communicates this concern to the neighbors. A few months later, when those neighbors are looking for a new insurer, Mark will be their first choice.
The key here is that Mark isn't selling to the neighbors. He makes sure they know how much he cares about his clients, but he sounds sincere in the process. If you can adapt Mark's technique to your business, you'll be having growing pains—a high-class problem!
9. Ramp Up Organic Search Efforts
In 2013, Google averaged 5,922,000,000 searches a day. Yes, you read that right — almost six billion searches every day.
Here's the thing: you can buy a domain name and set up a website that's perfectly designed to convert customers, but you need traffic. If you don't want to be invisible to search engines and the people who use them (everyone), you must pay attention to search engine optimization (we call it SEO).
Take GHT Limited, a small engineering firm in the Washington, D.C. area. GHT had been around for over 50 years before a new Director of Marketing & Business Development set her sights on getting the company to rank in Google's results.
Within a year of working on their SEO, GHT consistently ranked number one in search engine rankings for critical local search terms. This led to being featured on the cover of a leading industry magazine and several site leads, including a large commission from a nearby city.
Here are some quick & easy tips for improving your SEO:
Keep your content fresh – update regularly. Search engines like fresh food, just don't feed them after midnight (Anyone?).
Be present – get on Google+, get on Reddit, get on Yelp. Put your name in as many places as you can.
Give a little to get a little – link out to others and engage with influential bloggers & authority sites
Use 301 redirect to send misspellings and incorrect www usage to your real domain
10. Combine Different Marketing Tactics
Okay, it's a little obvious. But it's important enough to need saying. There is no one, right way to build your customer base. Different customers will react differently to the same marketing campaign. The vital thing is to use a variety of channels and tactics to reach your audience. Casting a wide net is the best way to appeal to a diverse audience and reel in as many new customers as you can.
Creating a multi-faceted plan of attack will allow you to reach and entice the largest amount of people and yield your business the most growth. The easiest way to combine different marketing tactics is to use both on- and off-line strategies. Send out emails and direct mailings.
You can also combine different strategies within your online marketing. Experiment with email, social media, word-of-mouth, etc. and decide which channels work best for you.
This strategy has two keys:
Make sure you're consistent across platforms, and
Use analytics & metrics to track your success on different media
11. Deliver Genuine Value
When it comes to growing your customer base, there's just no substitute for delivering real, genuine value. There's no better way to get customers to try your business, stick around, talk about, and refer you than by having a kickass product.
Think of Apple. Few companies have such a large and loyal following. Apple does great things with advertising and branding, but at the end of the day, Apple products are just good—quality, innovative, and user-friendly. Customer acquisition is a cycle, and once you're in it, you're golden.
Get Those New Customers
When you're supplying a quality product or service and offering real value, the hard part is just getting customers in the door. Use these tips including the use of local citations from Local Client Takeover to help you do that, and your excellence and customer service will take over from there — you'll be turning first timers into loyal followers with every sale.